Websites Designed to Attract Customers with Responsive Formats, SEO and Conversion Tools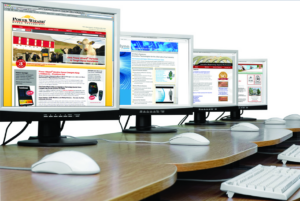 Attracting new customers is one of the key reasons a company will create a new website and Marketing Resources & Results has recently helped seven different companies fulfill that goal.
"Our websites go beyond just the catalog or brochure format," explained Chris Brown, owner of Marketing Results and Results. "We know our client's want customers to be able to find them, be attracted to their products and services and to ultimately convert from a prospect into a customer."
Each of the websites uses specific tools to help the customer take the steps necessary to build a relationship, even an online relationship, with the client.
Prospective customers may view a website from their desktop computer – or increasingly popular – from their mobile smart phone.The websites are responsive, meaning they display content in a format that matches and responds to the viewer.
"It's not enough to just have a good-looking website," said Brown. "Your potential customers have to be able to find you on the internet. And once at your site, they have know exactly what the next step is to take to become a customer. The websites we've created help walk them through the sales steps."
Some of the recent sites include  an engineering services website, a product development website, and a website that offers specialty brakes for the motorcycle market.One industrial products company wanted a content management website with rotating headers  to show the products in use by market. Another wanted an small website to showcase one of their services. Two other websites are restaurant-focused businesses (a local craft brewery and coffee shop) with menus, specials,events and food photography.
Each site was developed with the user in mind, but also to meet the objectives of the client. They have to do it all. Great functioning, good looking websites that get found and convert prospects into customers.
"Clients want the sales results, but they need strong marketing resources to get there," explained Brown. "That's what Marketing Resources & Results delivers."