It is an honor to have our efforts recognized. While we are proud of the recognition, each one of these awards and recognition is the result of the teamwork and attitude between the employees in our company, our clients and all the other individuals and companies we work together with to make our integrated marketing programs work.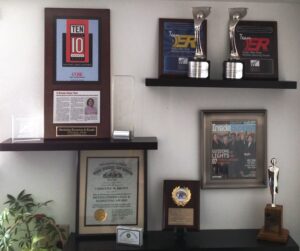 Marketing Resources & Results was honored with two silver Davey Awards in recognition of excellence in graphic design in both the magazine advertising category and print collateral category.
The Greater Cleveland Partnership's Council of Small Enterprise (COSE) saluted Marketing Resources & Results with a 10 Under Ten Award as one of the 10 companies in Northeast Ohio, with under ten employees, demonstrating best practices in their industry, with outstanding customer service and innovation.
Sales and Marketing Executives International (SMEI) of Akron presented the Marketing Resources & Results president with a Distinguished Sales & Marketing Award (DSMA) in recognition of increasing the marketing effectiveness of client programs.
ATHENA International recognized the owner of Marketing Resources & Results as an Awards Finalist in Northeast Ohio. This organization honors women whose leadership has made a difference in their profession, the community and above all in helping encourage other women to reach their leadership potential.